COVID Oximetry @ Home Virtual Ward
Checked: 06-10-2022 by vicky.ryan Next Review: 05-10-2023
---
COVID Oximetry pathway
Silent Hypoxia was a key COVID risk in the first wave of the pandemic: leading to significant clinical implications. Patients in certain at risk groups have therefore benefited from oxygen monitoring at home.
There is national guidance to support these services NHS England » COVID Oximetry @home
Following a roll out of the vaccination programme and changes in the acuity of patients being admitted to hospital with COVID the risk of silent hypoxia in all groups has reduced significantly.
Pulse Oximetry may still be valuable in the community for patients who have been diagnosed with (or have clinical signs of) COVID-19 and who are symptomatic but not requiring admission, in the following groups:
Patients aged over 16 years and clinically extremely vulnerable who are within the criteria for the Covid Medicines Delivery Unit 
Pregnancy (any gestation) who are not fully vaccinated
Patients that are suitable for Covid Virtual Ward/step down from Acute bedded units / Emergency Departments/ obstetric units
Patients who have been assessed by another HCP e.g. primary care / 111 where a patient is considered to require support to self-monitor (ensuring consideration is given to wider @Home pathways where appropriate) see clinical judgement table below to support
Clinical judgement is to be applied if the patient does not fit in the above criteria and this list is being refined regularly in line with evidence. Current list here:
| | | | |
| --- | --- | --- | --- |
| Unvaccinated or single vaccine | Severe Respiratory Condition e.g. COPD, C.F, Bronchiectasis | BMI > 35 (approx.) | Severe mental illness  |
| Active malignancy | Chronic heart  disease  | Down's Syndrome | Homelessness |
| Black, Asian or an Ethnic minority | Immunosuppressed | On dialysis | Gypsy, Roman or Traveller community  |
| Diabetes  | Vulnerable (clinical or social concerns) | Suitable for treatment from Covid Medicines Delivery Unit |   |
All patients should now be offered the self care pathway unless they are suitable for the respiratory virtual ward (see below)
Please signpost patients to the following information
How to look after yourself at home if you have coronavirus (COVID-19) or symptoms of COVID-19 - NHS (www.nhs.uk) webpage
If the patient is unable to access a pulse oximeter please contact our Healthier Together @ home service who will be able to help you:  sirona.respvw@nhs.net 
Referral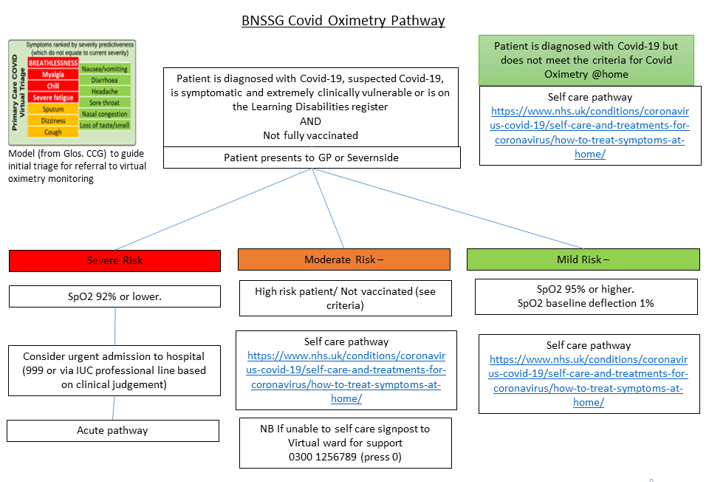 Pulse Oximetry Monitoring for COVID from October 2022
Please see the updated oximetry pathway for details of who to refer and the referral process.
Secondary Care Step down COVID virtual ward
Patients who are admitted to an acute hospital setting with Covid-related illness who are determined by secondary care Consultants to be safe to be monitored at home will be discharged to the Sirona-led Healthier Together @ Home Respiratory Virtual Ward for ongoing monitoring. There are clear criteria for admission and escalation which have been approved by all parts of the system. Escalation will be to the referring hospital team.
Criteria
Afebrile 48 hours
Low level New Oxygen requirement (<3l/min to maintain Sats) or increased on Long Term Oxygen requirement (known chronic hypoxia)
Saturations of 92-94% and/or NEWS2 of 3-4 with improving clinical trajectories
Saturations of 88-92% (or baseline) if known chronic hypoxia (e.g. COPD).
Can also have high risk factors or ongoing chronic condition where covid infection has led to hospital admission and could be managed in their own home e.g. chronic lung disease, pregnancy, immunosuppression etc
Patients should continue to be given a pulse oximeter by the referring clinical team, in addition to information and guidance on its use and safety netting information. Once in the community, staff from Sirona will contact and onboard to the remote monitoring system, to input their symptoms and saturation levels.
Treatment escalation plan (TEP)
When making a referral please give some information about treatment escalation planning. The Sirona team need to know that the patient is for escalation of care and what this might be.
If the patient has a deterioration in O2 sats, this will escalate care to the GP or 999 and there needs to have been agreement that the patient would be for some further step up of care such as oxygen or medication or HDU/ICU/ventilation. Patients with a DNAR in place may still be suitable for oxygen or other intervention so can still be referred.
Please see the new Standard Operating Procedure and Referral form 
Patient information leaflets (which provide details of re-admission criteria and pathways).
Patient Information Leaflet - NBT (Covid Virtual Ward patient diary)
Patient Information Leaflet - UHBW (Covid Virtual Ward patient diary)
This includes a pathway for pregnant ladies with amended escalation process
Resources
Full version of the RECAP-V0 score (REMOTE COVID-19 ASSESSMENT FOR PRIMARY CARE)